Introducing The All-New Prius Prime
Toyota is known for competing at the highest level in the auto industry. From this we have learned that Toyota's innovation can create a world where anything is possible. A world where we can charge, full speed, toward the next exhilarating chapter for hybrid cars. Ask yourself, "What if I didn't have to choose between good for everyone or good for me? What if I could find a vehicle that has style, is fun to drive and has excellent efficiency?" The 2017 Prius Prime encompasses that vision, where a vehicle can be as inspiring to the human spirit as it is mindful of the world and people that surround us. 
---

PRIUS PRIME VISION
Imagine the new possible.
Let's dream of a brighter tomorrow today. We want to introduce you to the Prius Prime, the hybrid that begins where sacrifice ends. Features like the expressive LED lighting makes a dramatic statement, plus a sleek, aerodynamic shape that helps maximize MPG. Available technology like the 11.6-in. tablet display puts more control at your fingertips. Who doesn't like more control over their car?! A larger battery pack extends your EV range and helps create more possibilities. Powering it all is Toyota's first dual motor drive system that helps deliver an exhilarating experience and lets you run on pure electricity, gas or both. Prius Prime will be available at dealerships beginning late 2016. 
---
HOW PRIME WORKS
The hybrid you can charge.
Go beyond what's expected. Prius Prime helps you maximize your efficiency without worrying about range by adding more battery capacity and more powerful electric motors. You can charge up at home or take advantage of one of the thousands of public charging stations. Regenerative braking helps give back small charges to the EV battery on the go, and if the battery charge does run out, it's no problem! Prius Prime will shift back into hybrid mode seamlessly so you can keep going. Choose between full electric and hybrid power and go even farther than you ever imagined, approximately 120 MPGe![1]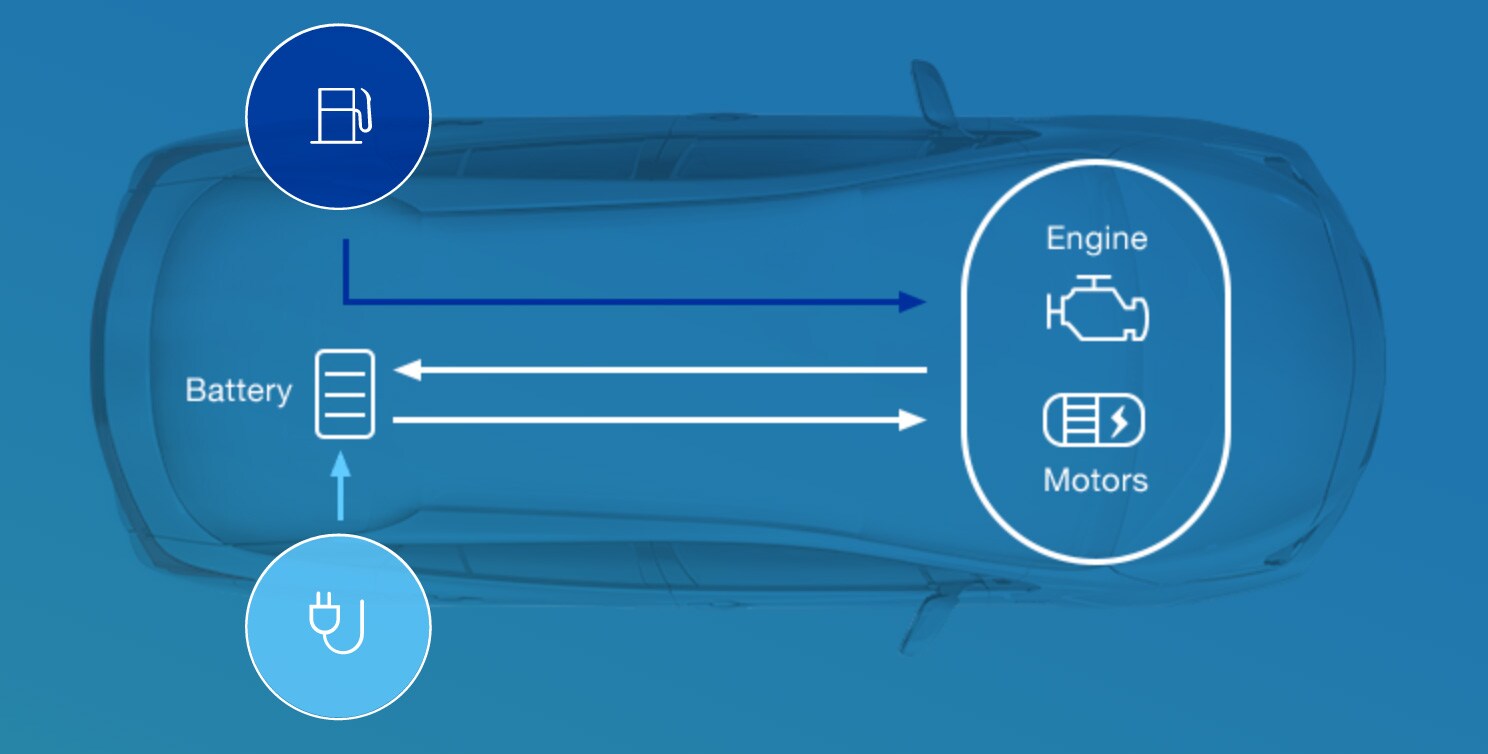 More Road. More moments.
Let imagination, not your range, be your limit. Prius Prime is projected to receive over 600 miles of total range![2] All-electric driving helps maximize your mileage with an anticipated 120 MPGe[3] and up to 22 miles[4] of pure electric driving. It's time to leave range anxiety behind and start looking into the future. 

---
ALL-NEW 2017 PRIUS PRIME GALLERY
Where efficiency meets ferocity.
---
FREQUENTLY ASKED QUESTIONS
• When can I buy Prius Prime?
        Prius Prime will be available at participating Toyota dealers in all 50 states in late 2016.
• Do I need to plug in Prius Prime to use it?
        No, but it is generally advantageous to keep it charged. Depending on your electricity rate, you could save money by plugging it in. The more often you         keep Prius Prime fully charged (at home, work or anywhere with a public charging station), the greater your gasoline fuel savings will be.
• What is a plug-in hybrid?
        A plug-in hybrid vehicle (PHV) is similar to Prius, but with a larger battery and more powerful motors that allow it to run much longer in EV mode.[5] You are         in control and able to use less gas if you choose to plug it in either at home, at work or at a public charging station. If you don't want to plug it in, no         problem, you can still drive the car in hybrid mode with great fuel economy.
• What is MPGe?
        This helps compare the mileage of driving in electric mode to the commonly used MPG figure for gas vehicles. So by driving Prius Prime in electric mode,         we project an estimated equivalent of 120 MPG.[1] The Environmental Protection Agency (EPA) uses the MPG equivalent (MPGe) figure to convert the         measurement of power used by plug-in hybrid vehicles, electric vehicles and others not powered by liquid fuels into something that resembles the more         familiar MPG rating.
• How long is Prius Prime's battery designed to last?
        The battery in Prius Prime is designed to last for the life of the vehicle.
• Do I need gas in the tank?
        You should never drive Prius Prime without gasoline in the tank. While, under certain conditions, you may drive on electricity alone, the vehicle always         requires gasoline to operate properly.
• How does Prius Prime drive compared to a gasoline-powered vehicle?
        The electric motors of Prius Prime deliver a smoother start than a gas engine. Prius Prime performance is also boosted by Toyota's first dual motor drive         system, delivering fun-to-drive acceleration that is smooth from the start, and even while driving at highway speeds.
• What is the expected driving range?
        Prius Prime is projected to drive over an estimated 600 miles in total range[2] and have an EV range anticipated to be up to 22 miles[4] if only recharging         once. If Prius Prime is kept fully charged, it allows the driver the ability to save and potentially use less gasoline, yet still have the total driving range and         efficiency expected from a Prius.
• What separates Prius Prime from other Prius models?
Prius Prime works similarly to a standard Prius, but with an increased electric driving range, more powerful electric motors and enhanced fuel efficiency. It         continues to set itself apart with a completely unique front and rear design. The advanced four-projector LED headlights, LED 
taillights
 and signals help         light the night in a most dramatic and efficient fashion. The aerodynamically formed rear glass and hatch represents another leap forward. The carbon-         fiber-reinforced construction is a Toyota first and results in a lightweight, easy-to-lift hatch.
• How do I charge Prius Prime?
        You can easily charge Prius Prim's battery by plugging its included charging cord into a standard electrical outlet. No additional charging equipment is         needed.        
• How long does it take to charge?
        Prius Prime's battery can be charged in 5.5 hours by plugging the included charge cable into a standard household outlet. When using a public charging         station (240V), Prius Prime can be fully charged in just under 2.5 hours.
• Do I need a special charger? Is the charging equipment included?
        No special charging equipment is required for Prius Prime. Prius Prime comes with a standard-outlet charging cable.[6]
• What type of fuel economy can I expect to get?
        EV Mode[5] helps maximize fuel efficiency with a manufacturer-estimated 120 MPGe.[1]
Hours
Monday

10AM - 7PM

Tuesday

10AM - 7PM

Wednesday

10AM - 7PM

Thursday

10AM - 7PM

Friday

10AM - 7PM

Saturday

10AM - 7PM

Sunday

Closed
---
Disclaimers:
[1] 2017 Prius Prime preliminary MPG equivalent determined by Toyota. Actual MPGe will vary based on driving habits, charging practice, battery age, weather, temperature and road/traffic conditions. Battery capacity will decrease with time and use. For more information on MPGe and range, please see
www.fueleconomy.com
.
[2] 2017 Prius Prime manufacturer's estimated range rating when fully charged. Excludes driving conditions. Actual mileage may vary.
[3] 
The environmental Protection Agency (EPA) uses the MPG equivalent (MPGe) figure to convert the measurement of power used by plug-in hybrid vehicles, electric vehicles and others not powered by liquid fuels into something that resembles the more familiar MPG rating.
[4] 2017 Prius Prime manufacturer's estimated EV range up to 22 miles when vehicle is fully charged. Excludes driving conditions. Actual mileage will vary.
[5] CAUTION! When driving a hybrid vehicle, pay special attention to the area around the vehicle. Because there is little vehicle noise in electric-only mode, pedestrians, people riding bicycles or other people and vehicles in the area may not be aware of the vehicle starting off or approaching them, so take extra care while driving.
[6] A heavier-duty wall receptacle with GFCI (Ground-Fault Circuit Interrupter) and a dedicated circuit are recommended but not required.